Mountain Dale Farm is located in a quiet, rural setting in central PA. Visitors from near and far are drawn to our home-spun hospitality, and the peace and solitude of simple country life. If you've got a little extra time, you may want to choose slower-paced back roads to start your relaxing getaway!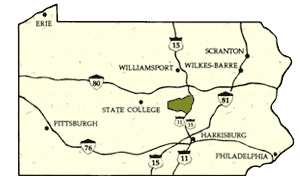 Approximate mileage to the Farm from major cities:
Pittsburgh – 185
Philadelphia – 155
New York City – 190
Washington, D.C. – 165
Baltimore – 125
The easiest way to the Farm is to find your way to McClure, a small town located on Route 522…don't blink or you'll miss it! Go slow through town and you'll see a turn to the north (toward the mountains) named "Ulsh Gap Road." After taking this turn, go about four miles and you'll come to a stop sign at a "T" at Back Mountain Road. Look straight across and you'll see our small Victorian "bus house" and sign at the entrance to our lane. Follow the lane and register at the first building, which is the Hassinger (Farm) House.
---
Note: If your GPS does not recognize our address (330 Hassinger Way, McClure PA 17841), use GPS coordinates of latitude 40 degrees 45.451 and longitude 77 degrees 19.49.