Mountain Dale is a real working farm. Bordered by thousands of acres of state forest land, the property includes 175 acres of wooded, tillable and pasture land. We grow a variety of crops, such as hay and corn.
Your time at the Farm is what you make of it…there are no set schedules and activities. Most guests come here to commune with Nature and enjoy a relaxing change of pace. If you'd like to explore the local area, an abundance of day trip opportunities await.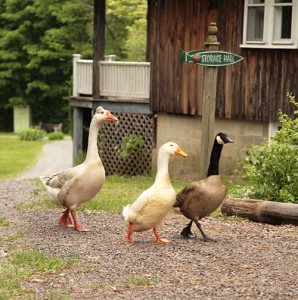 Wildlife thrives in the abundant Farm habitats. Bird watching is a popular pastime, and deer, bear, fox and other wildlife are frequently seen. We raise a variety of animals—sheep, cattle, horses, ducks, geese, goats, pigs, turkeys, peacocks, chickens and more—and visitors (especially children) often pitch in to help tend to them.
Depending on the season, there are a wide variety of "natural" activities to enjoy. There are lots of trails for hiking or cross-country skiing, a large pond for skating, fishing and paddle boating, and berries and fossils to gather. These are just a few of the simple treasures only Nature can provide.
Mountain Dale Farm is the perfect home for a wide variety of group events, including conferences, retreats, wedding receptions and more. These can range from one day gatherings to week-long events. We offer both indoor and outdoor accommodations for large groups of people. The Farm's fresh air tends to build healthy appetites, and we have commercial-grade food preparation equipment for your use in feeding all the hungry mouths at your special get-together.
Mountain Dale Farm is located in the heart of Pennsylvania. It's a very rural area, yet there's a wealth of day trip opportunities only minutes away. Explore the local Amish culture, swim for free at two community pools, or shop at antique and country stores. Listed below is contact information for a variety of day trip possibilities; to learn more about this beautiful area, visit Susquehanna River Valley Visitors Bureau's website. For more information on PA travel and recreation, click here.
Immediate area:
Walker Lake and Penns Creek (two of the region's many outstanding fisheries; the PA Fish & Boat Commission web site has complete details) www.fish.state.pa.us
T&D's Cats of the World (see more than 200 exotic animals given safe haven by this wildlife rescue organization) www.tdscats.com
Indian Run Golf Course (a challenging 18-hole layout located just minutes from the Farm) 570-658-2080 facebook.com/indianrungolf
Horseback Riding Lessons/Experiences – Enjoy the world from the back of horse; great experience for children and adults of all ages. Learn horse basics from grooming to saddling, general horse knowledge and a sense for safety. Can accommodate small groups. Call 570-837-9546 or email smwbuck@aol.com.
McClure Veteran's Memorial Pool (public swimming by donation) facebook.com/McClurePool
Wise Guys Farm, LLC (pick your own or purchase fresh berries and fruits in season) facebook.com/Wise-Guys-Farm-663593420418462
Approximately 30 minutes:
Woodward Cave (guided tours at one of PA's largest caverns) www.woodwardcave.com
Shade Mountain Golf Course (a wonderfully scenic 18-hole design) www.shademountaingolf.com
Approximately 1 hour:
Penn's Cave (America's only all-water cavern and wildlife park) www.pennscave.com
Clyde Peeling's Reptiland (explore the word of rare and exotic snakes and amphibians) www.reptiland.com
Hiawatha Paddlewheel Riverboat (Night, karaoke, dinner, brunch cruises and more) www.ridehiawatha.com
Lake Tobias Wildlife Park (petting zoo,safari tours featuring exotic animals from around the world) www.laketobias.com
Knoebels Amusement Resort (family-oriented park with free admission, parking, entertainment and picnic facilities) www.knoebels.com