For many years the Limmer family, Rob, Becky, Robbie and Maddie, has visited Mountain Dale Farm and enjoyed some country living and spent time connecting with each other. They invited more extended family and the visit became a tradition until tragedy struck. The grandmother and a grandchild were removed together suddenly from the earth. As a memorial to Rob"s mother and niece, the family asked if they could provide a memorial bench where other families could enjoy their time together.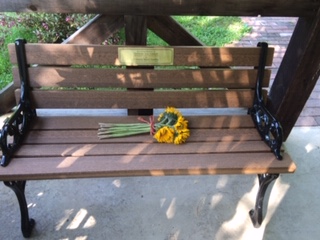 Below are Rob's words on the event…
My Mom was a critical care nurse and worked weekend shifts to help us with daycare, watching Robbie, Laney and Maddie on Monday through Wednesday while we were at work during the week. Over the summer, she loved taking them on adventures, and had something planned every week. The week of July 22, 2018, started like most any other week in the summer. Laney was dropped off with my Mom on Sunday evening to spend the night because my sister and her husband live ~30 miles away and could not drop off Laney in the morning. On Monday mornings, Mom would wake up and get ready for that day's adventure, then she would wake up Laney and they would go for a short walk through the neighborhood before coming over to pick up Robbie and Maddie at our house a few miles away. 

On the morning of July 23, while Laney and Mom were on their neighborhood walk, they were hit and killed by a driver under the influence of drugs. The driver lost control of her SUV and crashed into them on the sidewalk. In this moment our lives were shattered and would never be the same again. These past 10 months we have struggled to find our way through the pain of losing them. On this journey, we have learned that honoring their memory in the places they loved could bring us a small degree of comfort and peace. 

Mountain Dale Farms became one of those places that captured our hearts and gave us memories that will be cherished for the rest of our lives. My Mom rarely took a true vacation, instead taking time off to do work around the house or to make sure she attended the kids birthday parties. Four years ago we convinced her to join our family over Memorial Day weekend to visit "the farm" and from that moment she was hooked, and has been back every year since. It was her favorite vacation of the year, and one that gave us priceless experiences. We never had any doubt that placing a bench at the farm would be a perfect way to honor their memory and would be a reminder of all the happiness and joy it brought us all. Thank you so much for making every visit so enjoyable, and for all your kindness and hospitality getting through this difficult time.